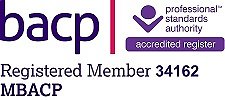 What is Counselling
Counselling is often chosen when you may be experiencing change in your life, or unhappy with relationships, work or a general loss of direction or purpose in life.

Counselling is a general term, where you are supported in a safe environment to explore your thoughts and feelings, with the aim of understanding yourself or situation better. It is different to talking to a friend as your counsellor is a professional and impartial.

Counselling is talking to somebody that will not give you advice, but give you a fresh perspective and understanding of your unique situation and provide you with tools and coping strategies

I am an Integrative Counsellor, which means I combine several models of Counselling, to fit the needs of each client, including Cognitive Behavior Therapy (CBT). CBT is recommended by the NHS NICE guidelines, as you can achieve a lot with a few number of sessions, therefore it can be cost effective for you.

Cognitive behavior therapy In simple terms, the cognitive looks specifically at how our thoughts can create our feelings and mood, and the behavioural therapy examines the relationship between our behaviours and thoughts. If we can change our thoughts we can change our feelings therefore change our behaviour.

Within the safe and confidential environment of your counselling session, you can take the time you need to talk through your worries and concerns. Sharing your thoughts and feelings, to enable you to work through issues in your past or present life that may be stopping you from living your life to its full potential.
Here's a great video about: What is Counselling



Personal Approach
"I will use my professional skills, to offer a confidential, non judgmental, empathic, accepting and supporting relationship to help you to move forward with your life".

Useful Links:

British Association for Counselling and Psychotherapy
Information on a range of Counselling Services

National Health Service England
Information on a range of health issues

Self Help Guides
Self Help Guides produced by Northumberland, Tyne and Wear NHS Foundation Trust
I would like to thank Northumberland, Tyne and Wear NHS Foundation Trust for their assistance.

Meditainment
Meditainment is guided meditation with stories, music and natural sound effects, that enables anyone to relax, meditate and manage their thoughts. Free stress relief download visit Meditainment.
I would like to thank Meditainment for their assistance.

A free meditation for pain management

A free meditation for getting to sleep
Can I help?:

Just email or Telephone for a no obligation talk.


Tel: 0121 680 9798
Mob: 07951 271 112
I am a Counsellor that offers counselling in Birmingham B1, Counselling in Solihull B90, Hall Green B28, Sutton Coldfield, West Midlands, Warwickshire and within easy reach of M5, M6, M42, M40 and Stratford Road Shirley.

Complete Counselling